Egg Foam Shippers
For the Professional Breeder
Show your quality
Breezy Bird Farms foam shippers are Manitoban made right on site. Made from recycled material to help reduce waste in our landfills. Foam shippers are also reusable for those who receive them. Great for shipping eggs, selling at the farm gate or auction selling. Present your eggs in a professional manner. Going the extra step shows the quality of your product!
Helps to protect the egg from hot and cold

Reduces moisture loss

Stops egg from shifting while in transport

Improves hatch rate

Saves time packaging

Recyled material

Canadian made

Good resistance to rough handling

Professional way to ship

Reusable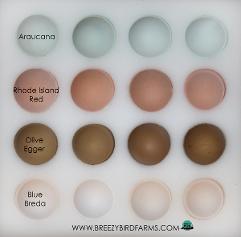 Poultry Shippers are 16 holes per shipper. Comes with shipping box. Shipping available. See product description for more information.
Available in standard poultry size and bantam size. Fits, poultry, ducks, and guinea fowl. Style and color of the foams may vary.
Quail egg shippers available soon!
© Copyright Breezy Bird Farms